Overview
The prerequisites for the @Work Geo Location feature are summarized below. The main article to setup the @Work features is @Work.
Summary Steps:
As a site admin, enable @Work Geo Locations in Admin Tool > System > @Work tab
As a site admin, add @Work Geo Locations using the map at the bottom of the same page above
As user, ensure user's browser/device combination is permitting the Location to be shared
As user, on any Learner Tool page, click the red button near the top of the page to access the Share Your Location button.
Click Share Your Location as seen below
The browser will ask if it's OK for the learning site to access your location information.
Click Remember this decision and Allow

The browser will ask if it's OK to access your device's location so it can then share the information with the permitted site(s)
Click OK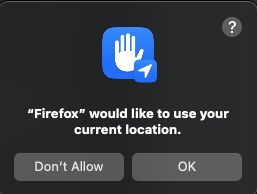 If all is working correctly, the green indicator should replace the red indicator
Troubleshooting Steps
Wisetail cannot see your location and doesn't log that information in our servers. If the @Work feature is setup correctly and one or more users are experiencing trouble getting the @Work indicator to turn green:
Trying using your Maps app on the device or in the same web browser. Does that app or website see your location correctly?
Check your browser settings for the learning site (<yoursite>.wisetail.com). Make sure location sharing is enabled
Check your privacy and security permissions and make sure that the browser has permission to access your Location information
If all appears correct on the client settings, try and increase the radius for @Work Geo Locations address in the Admin Tools > System > @Work tab. If the accuracy of the lat/long being returned is low, increasing the radius of the related entry may help that lat/long combination across the fence.
If a user was working and stopped working or intermittently alternates between NOT@Work and @Work, this is usually a symptom of the lat/long values being returned varying some when queried and relates to the method the device is using to determine its location. Increasing the radius of the related @Work Locations entry for the user's location will also help this scenario.