A simple way to credit a certain amount of time for a module has been created. Similar to the way a  module can have points associated with its completion, a course time (duration) credit can now be set on a module as well. Please Note: This is not actual time tracking within the application.
Reports (Module Completion Report, Multi Module Completions) have also been enhanced to provide details on the cumulative amount of time associated with completed modules on both an individual level, and for groups.
This time credit information might be used to demonstrate numerically how much training an learner or learner group may have accomplished or used to determine reward structures.
Module Requirements
Time credits can only be applied to modules that meet the following requirements:
Standard module (reference modules not supported).
Does not contain another module (not a parent module).
If a module contains another module, this option will not display in the Settings panel.
Options
To set a course duration/time credit value on a module, a Module Time Credit section has been added to the Settings panel on the module details page. The default setting is 0 hours, 0 minutes and values can be added by whole numbers (minutes: 0-59, hours: 0-99).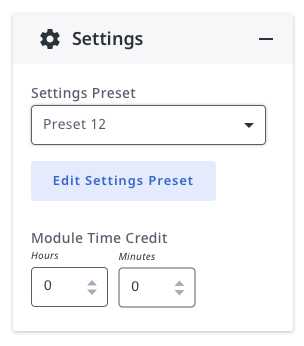 Enabling Module Time Credits
To use this feature please reach out to Technical Support & we will enable it for you.