Please visit the Advanced Tools page in The Drop for pricing details, or talk to your CX Rep. 
---
Introduction
OnTrack is a location-based Checklist and Action item collaboration tool, enabling users to  track, communicate, and collaborate in the successful fulfillment of compliance, safety, and quality control requirements.
We have multiple reports for tracking OnTrack activities.
Locations
OnTrack is a primarily location-based collaborative tool. Administrators create checklists and schedule required and non-required fulfillment at specific times and in specific locations. OnTrack users collaborate to fulfill checklists, as well as create and resolve Action items based on their shared locations.
---
Checklists
Note: These are not Observation Checklists, which are an unrelated feature in the Wisetail LMS.
An OnTrack checklist is a set questions meant to be answered by OnTrack users. Administrators provide the instruction, organization, and management of checklist questions. OnTrack users provide the organization and collaboration to answer the questions as scheduled.
Actions
Actions are free-form "to-dos" utilized by OnTrack users to track, communicate and collaborate in the resolution of issues. Action items may be related to, and contribute to the successful fulfillment of, a specific checklist, checklist question, or neither.
Tracking
When a team member opens an in progress checklist, they should immediately be able to see who started it, and when they check off that next task, they should receive some credit even if they aren't the one who ultimately submits the checklist. Managers and admins also want to see that people aren't just clicking through checklists, but rather they expect team members to reference and complete checklists within the flow of work, hence timestamps provide visibility into the intervals between the tasks.
---
The Application
Checklist Tab
The Checklist tab of OnTrack is the interface by which users access, review, and fulfill checklists. Each user who submits a checklist task will be listed as completing that task, both on the checklist itself, as well as in the The Submitted Checklist Report: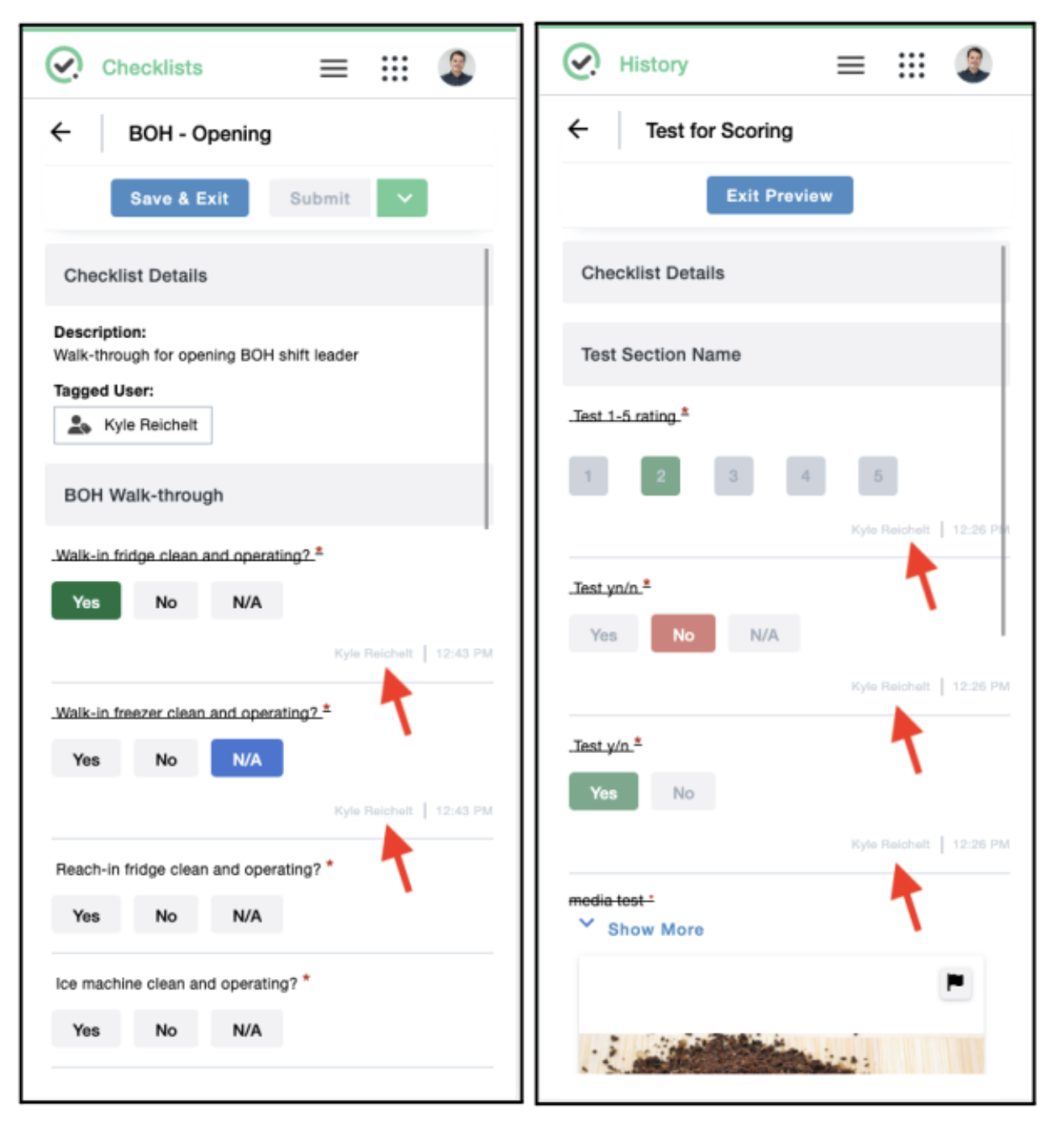 Linked Checklists
The Linked Checklist setting can be found in the admin tool > OnTrack > Checklists > Create/Edit Checklist page, in the Details section:
This This setting enables/disables OnTrack application behavior, most notably shared checklist actions and corrective actions. When a linked checklist is utilized, unresolved corrective/checklist actions will be inherited by subsequent instances of the checklist, and–when utilized in conjunction with mandatory corrective actions–unresolved corrective actions will satisfy mandatory corrective action requirements. Unlinked checklists (checklists not utilizing the 'Linked Checklist' setting) do not inherit corrective actions and so unresolved corrective actions will not appear on subsequent checklist instances and will not satisfy mandatory corrective action requirements.
Pre-populated question types support (but do not require) configurations with an answering score (weight). Admins may determine that each answer is worth anywhere from 0-9999.99 units, depending on their desired scoring model.
---
Question Types
To-Do List
Yes / No - N/A
1-5 ratings
Pass/Fail
Yes/No
Media
Number
Long Text Input
Person
Range (Within the Range question type, there are three subtypes)
When the Min subtype is selected, the admin provides the minimum acceptable value (e.g 3), below which any value entered by the OnTrack end-user (e.g. 2.9) will trigger a 'fail' response. At or above (e.g. 4) will trigger a 'pass' response. The Max subtype works in a similar manner, as does the Min-Max option.
Checklists with scoring enabled show a scoring icon (

) on Checklists in the Admin tool: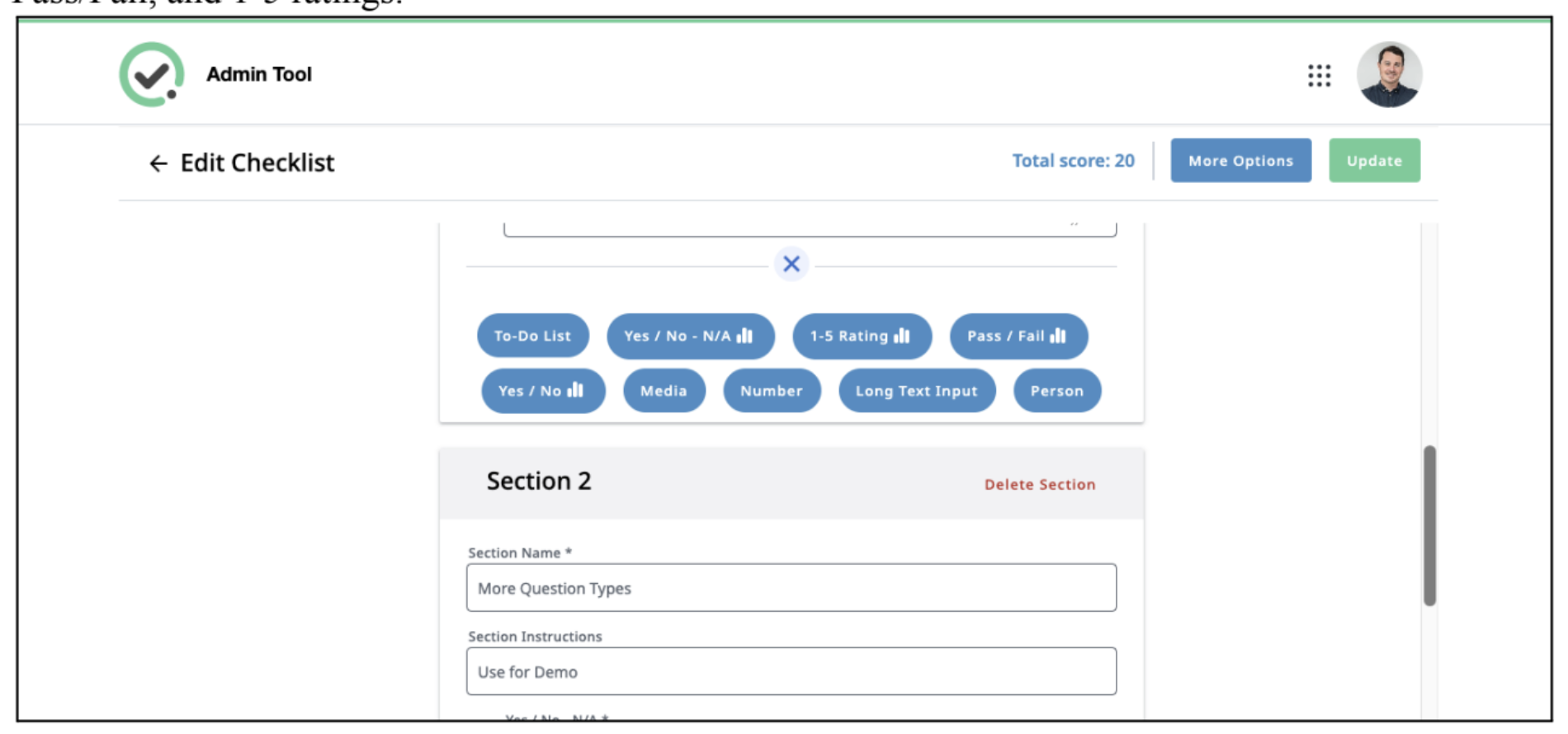 ---
Reference Images & Videos
OnTrack allows you to embed reference images or videos from your Wisetail media library into your
checklists.
     When configuring your checklists in Admin > Checklists > My Checklists > New/Edit Checklists,
     when you open the nav-menu next to any checklist question, you'll now see the option to Attache
     Media > Images > From Library.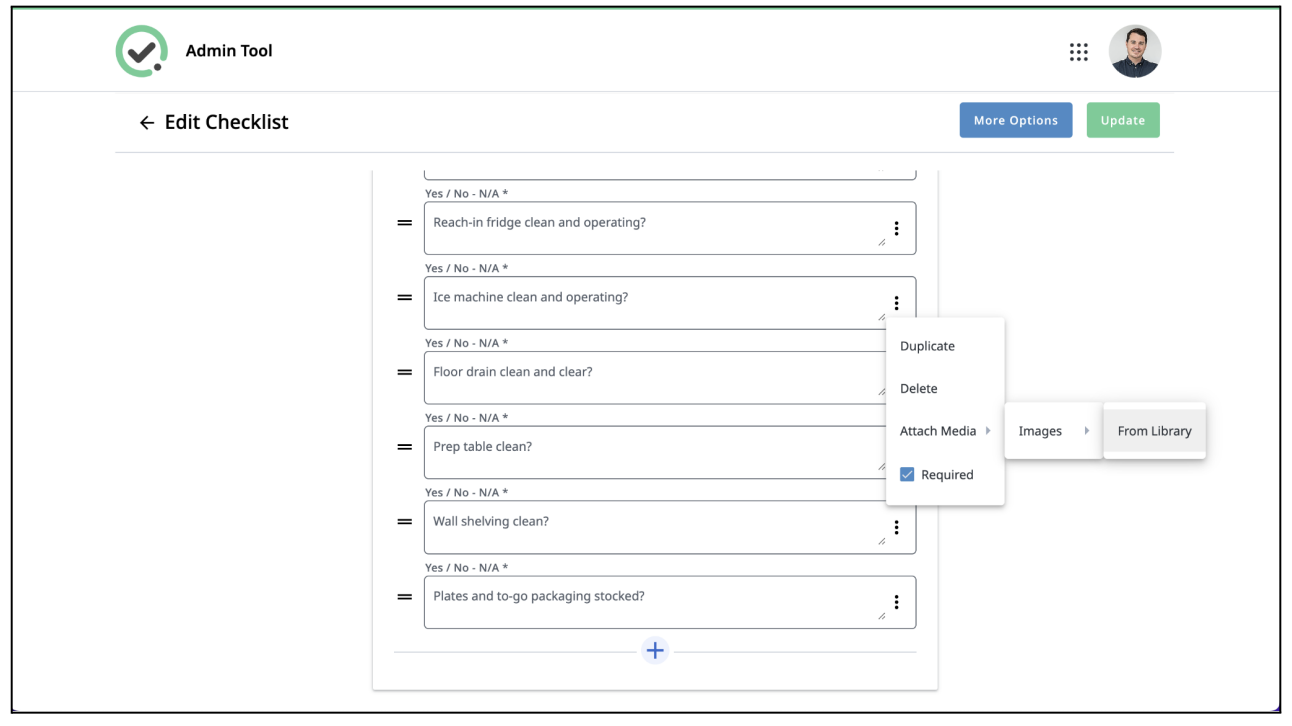 This brings up the 'Select Image from LMS Content Media' modal window.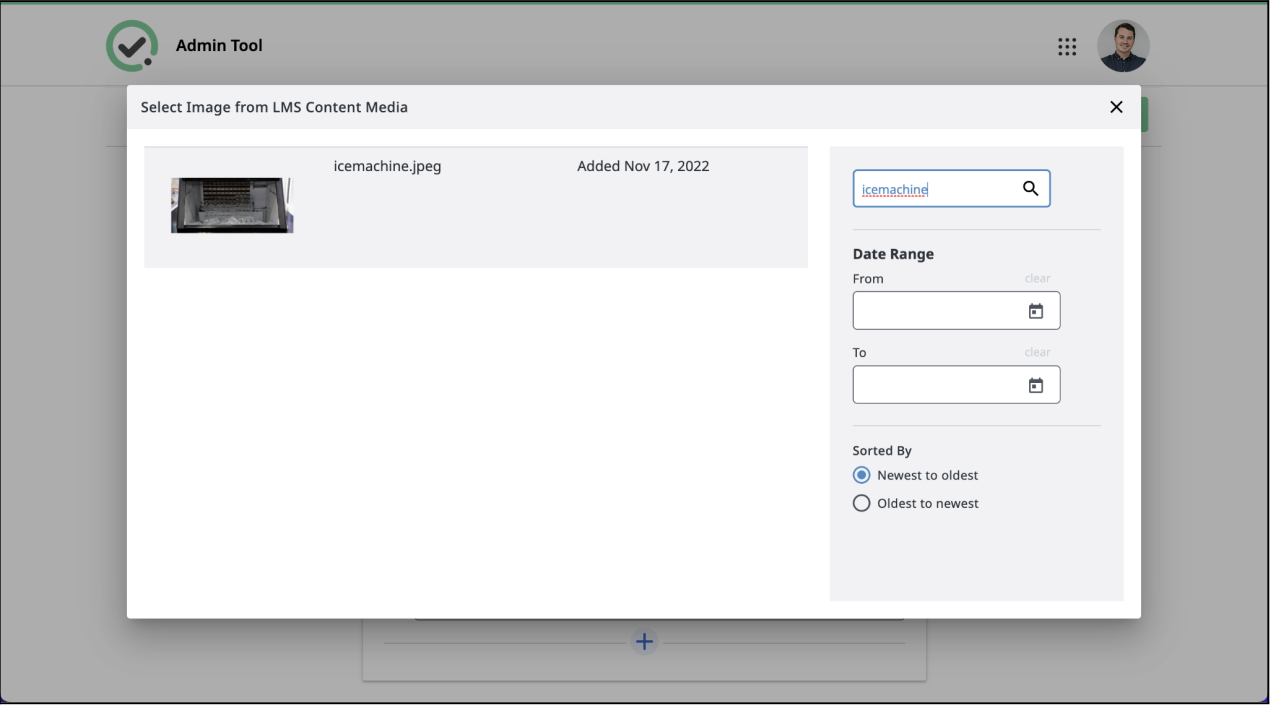 Once media has been selected, it'll show just below the checklist question to which it was attached: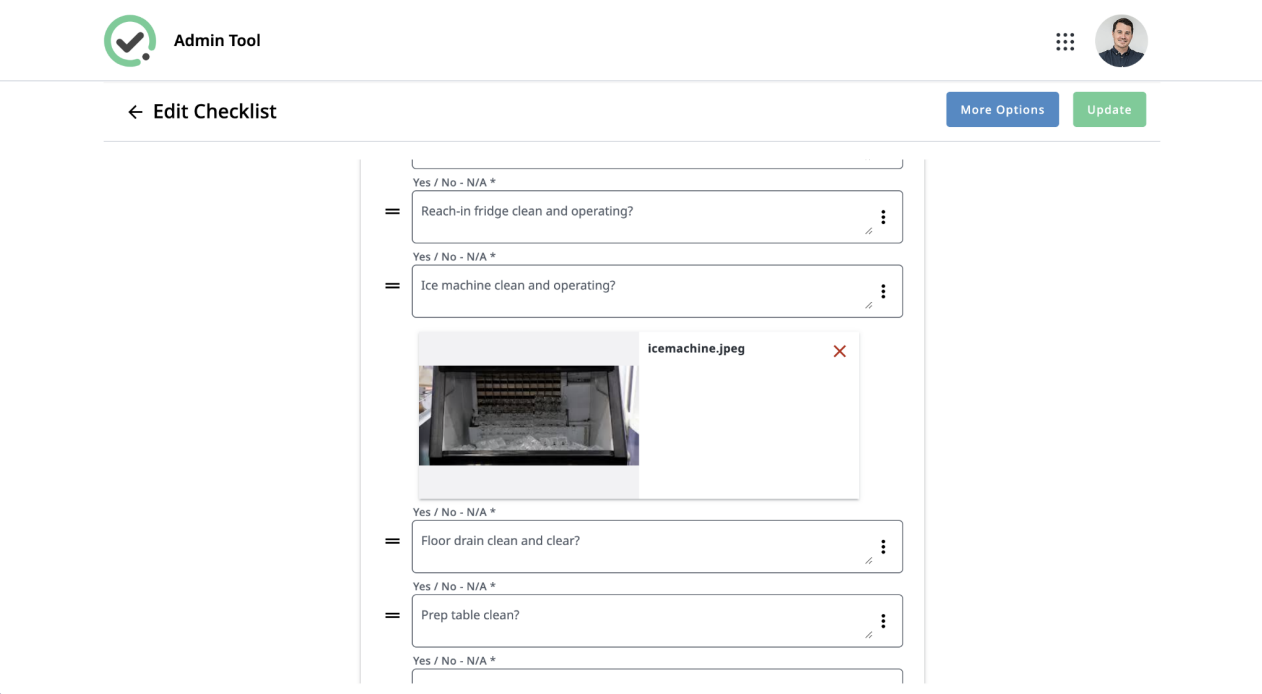 ---
The Action
Actions in OnTrack is a location-based collaborative interface allowing end-users to to access, review, and fulfill action items, as well as create new ones for fulfillment.
Action Types
Corrective Actions - During the process of checklist fulfillment, when a Yes/No or Pass/Fail question is answered in the negative, a Corrective Action may be created and will persist  attached to the originating question, for the same checklist type and location, until resolved. Corrective actions may be accessed and resolved from the originating checklist type as well as from the Actions tab.
Checklist Actions - During the process of checklist fulfillment, a Checklist Action may be created and will persist attached to the originating checklist, for the same checklist type and location, until resolved. Checklist actions may be accessed and fulfilled from the originating checklist type as well as from the Actions tab.
---
History Tab
This tab a history of actions within Checklists.
Tagging Users
You can tag a user on a checklist item to help keep track of which people are are handling which tasks throughout the day. Only one user can be tagged on any given checklist.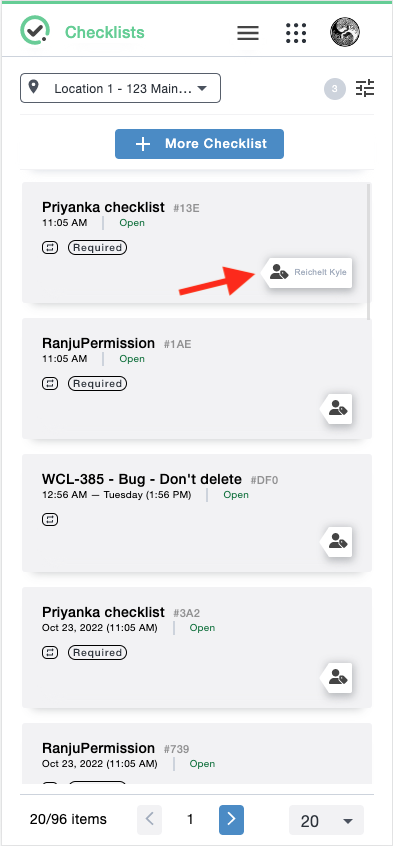 ---
Checklist Administration
Permissions
End-users of OnTrack are only ever able to access checklists which they are permissioned to access This, for now, does not extend to Actions (only the checklist links), the admin tool, scheduling. If no rules are defined for a checklist all users may access the corresponding checklists, assuming they may also access the corresponding location.